Proprietary Reporting Engine, advanced analytics, and joint back office arrangements.
Avatar has a dedicated in-house back office that reconciles trades from each execution platform on a nightly basis to ensure all traders have accurate and accessible trade information at all times.  Coupled with our proprietary reporting engine, advanced analytics, and joint back office arrangement, Avatar is able to offer best of breed support and post-trade analytics to all our trading members.
About the Avatar Advantage
Here at Avatar, we look to attract and retain the brightest talent in the industry. For those interested in trading at either of our New York or Chicago trading floors or remotely, learn more.
Execution Venues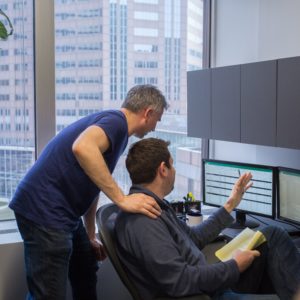 Avatar has direct market access and routing relationships with nearly every major vendor for domestic equities. Our back office and connectivity team is continuously improving the quality and quantity of destinations available for traders, allowing them to be nimble and competitive in today's dynamic execution environment.
Our wide variety of direct market access, dark pool aggregators, and intelligent routers allow traders to participate in the venues with the highest liquidity at the most competitive cost structures.
Contact Us To Find Out More
We understand every trader's needs are different. Contact us to get specific information,  Contact.










Retail Portfolio Margin Accounts
Avatar is a proprietary broker dealer and does not carry customer accounts.  However, we have unique relationships that combine high end execution tools with portfolio margin in the retail environment.  Active retail traders introduced by Avatar can utilize a portfolio margin structure while clearing through Bank of America, ICBC and Wedbush Securities.  For more information, please contact us.